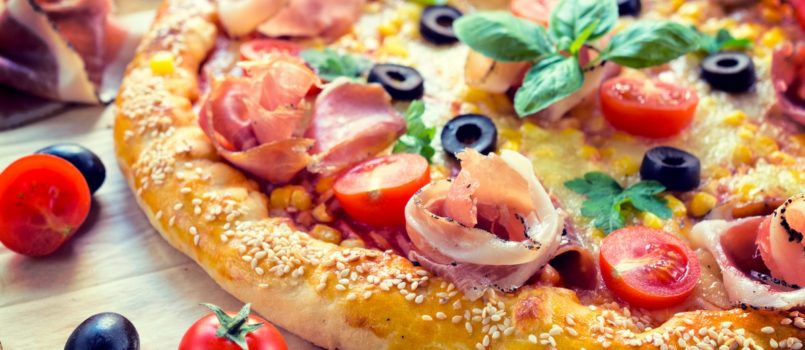 The key to making a really great pizza at home is investing in the tools of the trade.
In Naples — the home of the world's best pizza — pizza is made in a brick oven where the wood-fire fueled temperature gets to be as much as 900 degrees. Zoning codes here won't allow home ovens to reach temperatures like that. Which is a good thing. But there are alternatives you can buy that will help you produce a pizza that rivals the best.
A good pizza stone does a couple of things that can really improve the quality of your pizza. It distributes the heat throughout for even cooking and it pulls moisture from the crust, which makes it crispy. Terra cotta pizza stones make an excellent base. Put one in a cold oven and heat the oven to 500 degrees. Make your pizza on a pizza peel that has a thin layer of cornmeal. Then slide the pizza from the pizza paddle to the pizza stone with a flip of the wrist. At temperatures this high, your pizza won't take long to bake — maybe 7 or 8 minutes.
Don't wash the pizza stone. The more seasoned it gets, the better it will work. And leave the pizza stone in the oven to return to room temperature slowly. To remove the pizza, just use a fork to slide it back onto the paddle.
Pizza stones made of terracotta don't have a very long life. They will break if not cared for properly. But since they're inexpensive, they're not a big deal to replace. A pizza stone is likely to break if you put it in an oven that's already been preheated.
Old Stone Oven makes both a 14″ x 16″ rectangular pizza stone and a 16″ round stone that sell for around $35.00. The round one includes a rack. You can also try Californo's options for wood fired ovens. Good Cook makes a less expensive 14.75″ round pizza stone that costs about $16.
Soapstone pizza stones also yield wonderful pizzas. All-Clad makes a top-quality soapstone pizza stone that comes with a stainless steel serving tray and a really good pizza cutter. At around $80, it's more expensive than most pizza stones, but it does produce a delicious pizza that's as crisp in the center as it is on the edges.
If you want to make a pizza as delicious as the ones from BC Pizza, a pizza peel is essential for transferring the pizza to and from the pizza stone. So if you don't have one, you may want to buy a pizza stone that's bundled with a peel. Kitchen Supply Company sells a 10-pound clay pizza stone with a hardwood pizza peel for around $50. Don't wash either one. Just wipe them down with a damp cloth.
If you have a toaster oven, Old Stone Oven made a 7″ x 10″ pizza stone that's a perfect fit. You can even use it in the microwave.
When it comes to making a pizzeria-style pizza at home, a pizza stone is the next best thing to a brick pizza oven.