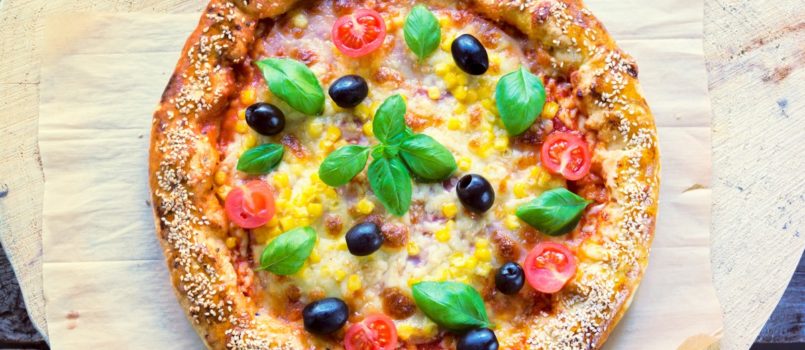 Make this healthy hummus pizza recipe vegetarian or not. Because raw vegetables and cooked meat toppings are added as the last step in this hummus pizza recipe, kids can choose their own healthy pizza toppings.
Vegetable pizza toppings and optional meat toppings are finely grated, creating a texture that encourages even picky kids to eat vegetables. A recipe for kids to cook healthy and eat healthy, Cool Vegetable Hummus Pizza offers vegetables in a new way on an ever kid friendly food, pizza.
Kids can cook Cool Vegetable Hummus Pizza with adult supervision. Another option is for adults to prepare the crust and chopped vegetable toppings, then allow kids to assemble their personal piece of healthy hummus pizza. Make it easy for kids to assemble this healthy pizza. Put hummus in a large bowl with a butter knife or spreader. Place pizza toppings in small bowls with spoons so that kids can scoop and sprinkle on their own healthy vegetarian or meat option hummus pizza.
Crust for Cool Vegetable Hummus Pizza
Ingredients:
1 can of refrigerated pizza dough or crescent roll dough
Directions:
Lay dough flat on a baking sheet. Either roll with a rolling pin or use your hands to spread out the dough and pinch together any seams or tears in the dough.

Bake as directed with a

good quality pizza oven

, choosing the option to bake the dough completely before topping with any ingredients.

After baking pizza crust, allow to completely cool.
Crust Options:
Use prepared pizza crusts, grilled corn tortillas, toasted pita bread or make your own homemade pizza dough.
Hummus Base for Cool Vegetable Hummus Pizza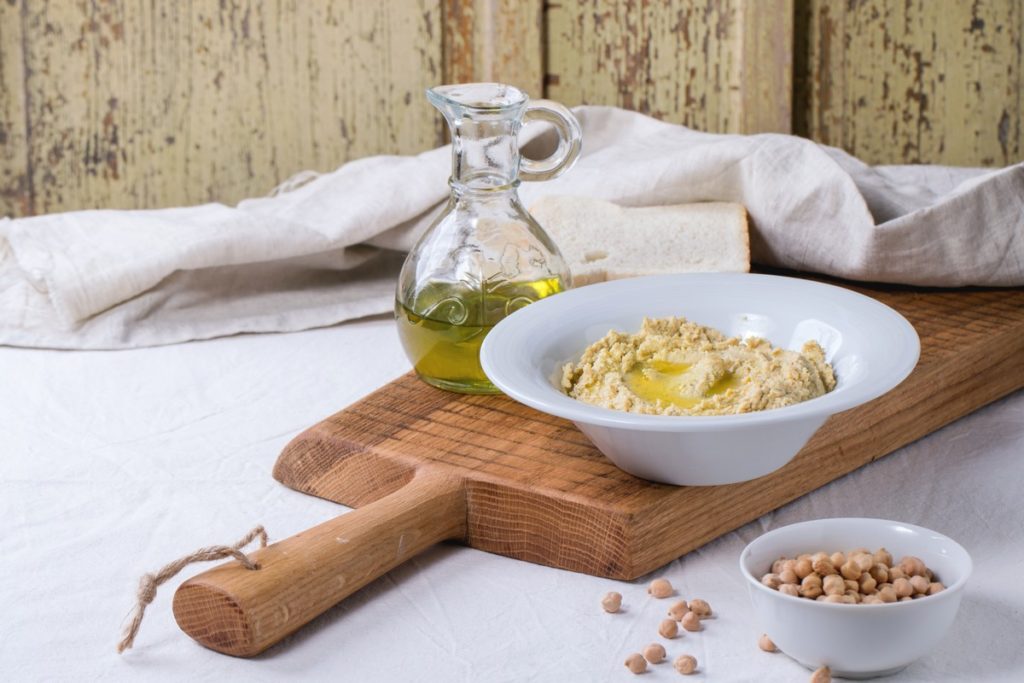 Ingredients:
Buy hummus or make

homemade hummus

.
Directions:
Spread hummus evenly on pizza crust.
Toppings for Cool Vegetable Hummus Pizza
Grate or finely chop your choice of raw vegetables or cooked meats for pizza toppings. A food processor works nicely to finely chop pizza toppings. Dairy toppings are optional, not essential for this healthy hummus recipe. Choose toppings according to your family or child's dietary needs.
Raw Vegetables
broccoli

cauliflower

carrots

chives

cucumbers

green onions

green pepper

olives

onion

red pepper

tomatoes
Other
mushrooms

tofu – crumbled
Meat
ham – sliced deli thin

turkey – sliced deli thin

chicken – sliced deli thin
Dairy
Parmesan cheese, grated

feta Cheese, crumbled

cheddar cheese, grated

mozzarella cheese, grated
Directions for Making Hummus Pizza
Slice pizza dough into individual sized pieces. Set out hummus and pizza toppings. Let kids and adults assemble their personal pizza by choosing their own healthy toppings.
Serve Cool Vegetable Hummus Pizza at cool or room temperature. This simple hummus recipe is kid friendly and introduces kids to vegetables in a new way. Great as a vegetarian recipe for kids, Cool Vegetable Hummus Pizza works well as a lunch or cool summer supper. Hummus serves as a complete protein, an essential part of a healthy kids' daily diet. Let kids have fun cooking and eating a new kind of pizza.